Tuesday: her last day sa softball game. I made sure I didn't missed it. It was a good game, it wasn't boring at all. She got a chance to play again and did a good hits. After the game the coach gave a speech to all the players how great they were playing during the season. And the coach mention Julie's name how she made great hits during the season though she only a bench player. (other words "left over player" ) hahaha.

Wednesday: honors night. we were almost late cause i was late coming home from work got stuck from the traffic plus it was raining hard! Anyways, we are so proud of her. Thanks baby pie for all your hard work. I guess I got no choice to put the sticker back on my van cause i promised her last year if she's an honor again this year I will put this STICKER.

here's some pics:

*** 7th Grade Honors Night ***



Seems like there's NOT much honor kids this school year.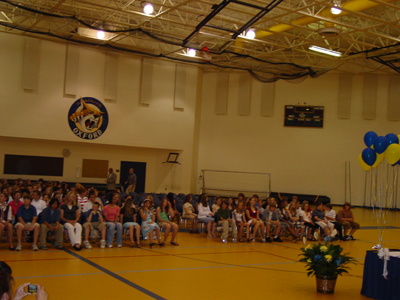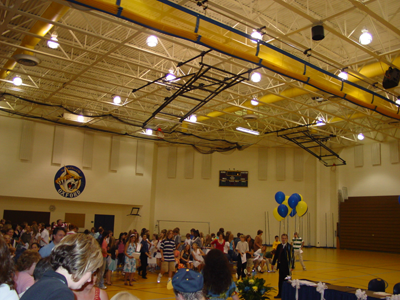 The happy student?!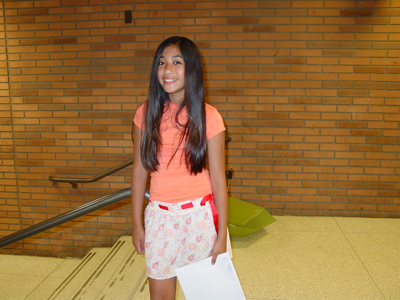 Such a stinker didn't want me to snap a picture of her.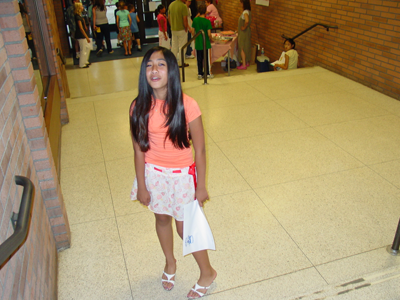 Julie & her cmate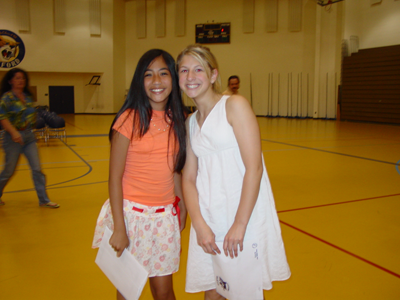 Ashley & Julie (they grow up together)




me and Jenny (her son is an honor student too)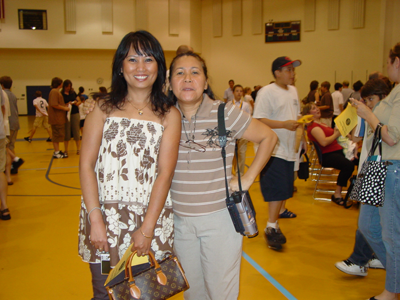 >>>Ok- the clothes i wore that night i have couple comments. couple moms said " oh you look soo cute " honestly i was so embarrassed by their comments cause people over heard them they were looking at me and gave me a smile. Hindi ko talaga nagustohan sana sinabi na lang nila na i like your outfit or you look nice. "cute" words i think it's for kids compliments, don't you think? I'm almost 40 come on! Please don't think this in a wrong way, i'm just not happy about it.
Thursday:
woke Julie up for school but she said her tummy hurts and want to stay home. i asked her 1st if theres a home work or project didn't get done & just pretending tummy hurts so she can stay home. She did insist but if i send her to school and it gets worst i wont be able to pick her up right away since my work is far away.
Friday:
got a call from her teacher she didn't submit her project, hmmm it makes me wonder if she was pretending? such a stinker!.Well, she's grounded the rest of the school year w/c is 2 weeks. no cell phone, no internet, no shopping, no friends over or go to friends house and no sleep over. she's not happy at all! i am hoping she wont get a C on her 4th quarter report card. If she does i don't know what to do with her.
Before I forget, for you miss
Raquel
...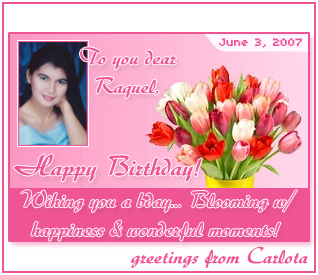 Have a great one! oh yeah- thanks so much for the package I got it today. hmmm paborito ko pa naman ang pinadala mo. Very much appreciated kaau Raq. hugs!
Happy Sunday everyone and have a wonderful week ahead. Hugs & kisses to all.
I got a chance to upload some photos from the parties. check it out when you guys have time. click HERE.