Finally I get a chance to update my abandoned blog. wink* I'm just busy and haven't been feeling good with this allergy. I'm okay now but hubby & Julie are so bad with their allergy.

Thanks so much for all the visits and messages truly appreciate it them all. Tomorrow is Mother's Day. Saan ang handaan mga mama? Kami parang hindi lalabas kasi ang mag-ama ko not feeling good, not fair naman ako lang ang mag enjoy. Honestly i rather stay home do nothing wink*.

Happy Mother's Day to all the moms out there! Enjoy your day.



Mother's Love

Her love is like an island
In life's ocean, vast and wide
A peaceful, quiet shelter
From the wind, the rain, the tide.
'Tis bound on the north by Hope,
By Patience on the West,
By tender Counsel on the South
And on the East by Rest.
Above it like a beacon light
Shine Faith, and Truth, and Prayer;
And thro' the changing scenes of life
I find a haven there.
- Author Unknown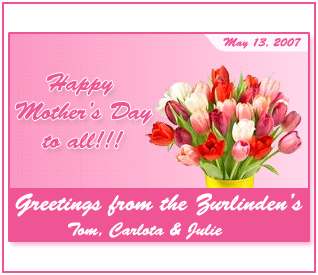 To my beloved mother, always remember you're often in my thoughts and always in my heart. Before you always said, "Someday, you'll thank me." well, as usual you were right! Thanks so much. Happy Mother's Day. I love you.

Happy weekend to all. God bless.