Saturday, May & I were hosted the Silpada Jewelry, Martine Kraft is our Independent Representative. And she's a friend of mine since 1999, we work together before. It was fun, we didn't invite that much people/friends though, but we did had orders almost $600.00. We are closing the show on Tuesday.

Anyone interested and want to know more about Silpada, please visit Martine's site.

Here's some pictures from the party:

All Silpada Designs hand-crafted jewelry is the finest .925 sterling silver, no costume or "fashion" stuff. Complementing the beautiful sterling silver are colorful semi-precious gemstones and natural materials including freshwater pearls, coral, tooled leather, and so much more. So there really is something for every taste and style. More HERE.

The Hostees:



Me wearing the earing & 2 necklaces.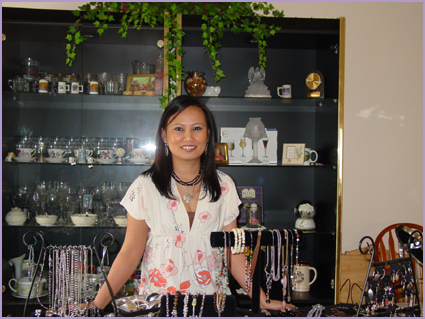 >>>Earing: S8A. Leaves of Sterling Silver sway from small Freshwater Pearl Earrings… on French wires.
>>>Sterling Necklace: 37G. A Silpada classic! This Sterling Silver Cross Pendant suspends from a Sterling Silver Link Necklace. 17" long with a Toggle Clasp.
>>>Black Beads Necklace: S7E. The perfect backdrop, Black Beads allow Sterling Silver Beads to shine on this versatile three-strand Necklace. 16" long with 2" Extender, Black Onyx Bead accent and Lobster Clasp. View the online.
Love them all and gotta have it. wink* Need another job! hehehe.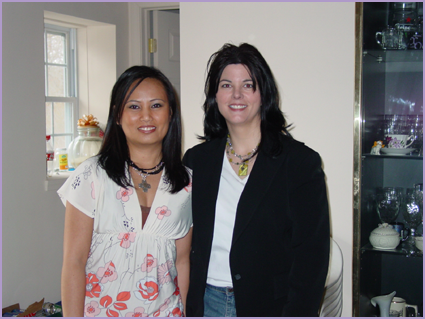 Thanks Martine, I think i'll have it again, just to have all I want.

Thanks everyone. Happy Monday and have a great week. God bless us all!

One more thing...my blog is nominated for Filipino Blog of the week, please vote for me and my friends who got nominated. You can vote multiples. See the illustration.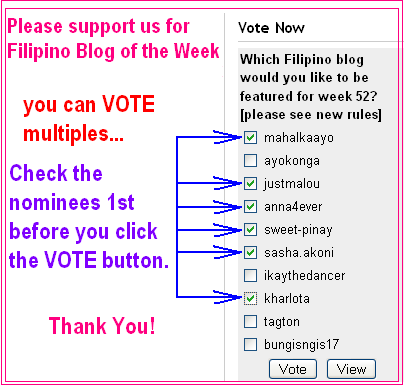 Click HERE to vote and is on the left side bar. Thank You.


Ghee- I will do my tag next time. I will surely spill some beans here. wink*