the 22nd and it's over due my thank you's to all! Very very sorry, I'm just busy & got lazy updating my blog. Pero andun ako sa bisdakplanet nag ha hung out nagpalipas ng oras.
Anyway, our anniverasary was fine, Friday the 12th I wasn't feeling good. So. we went out Sunday, went to auto show in Detroit
NAIAS
and had lunch in Hardrock Cafe. That was fun but wasn't really into the cars, few concept cars did caught my attention & that's it. Ang dami kasing magagandang vehicles kaya lang 'lang pera pang bili. hahaha. good excuse huh?!
Here's a pics with my hubby that Sunday at hardrock cafe, the car? it is his gift for me parked in my basement. hahaha. It's a 2007 Mazda Ryuga Concept. pretty neat huh?!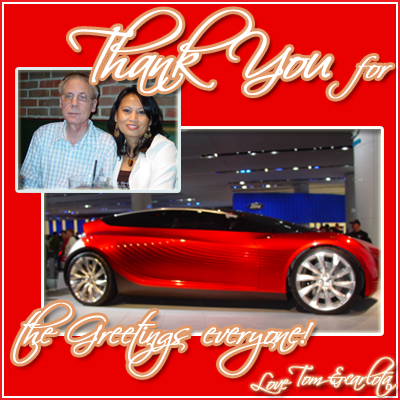 ang bida sa araw na 'yon.
To all who greeted our 13th wedding anniversary, thank you thank you very much, we truly appreciate it. God bless all!
Again and again thanks for visiting me here and all the lovely messages you guys left, I really appreciate it. I will visit you guys pretty soon. Tomorrow we'll be going to Kathy's house kasi xmas pa rin sa kanila, exchange gift namin late this year kasi puro busy ang mga tao. As soon as we get home i'll be helping Julie to study her mid-term test. Wednesday, Julie's catechism gabi na kami maka uwi then study for her test again, Thursday is her dentist appointment, Friday back to the dealership for my van and Saturday PARTY TIME!
. Sunday blog hopping… See you guys, kisses to all.
Kukang - handa na ang party?

GA - salamat nga pala sa tawag, Julie told me and I'm very sorry I haven't returned your call yet, I will sometimes this week okay? hugz!
Mildred - asa naman ka? musta na my dear missed you na oi!, 'la na tika kit-an sa YM. Sorry ha wala pa jud ko ka email nimo. Musta na lang ko ninyong tanan.
Melz - pa member na sa bisdak ha? ayaw dugaya…hehehe…

sistah salute to you!