…sa title 'kala mo kung ano na.
. mga entries lang po na I didn't get a chance to post it.

Warning lang po aabutan kayo nga siyam siyam :-). Sorry in advance
.

Really- 2006 was very interesting for me specially the blogging na I come across in somewhat very stupid but it didn't affect me because we know better and we know the truth, plus God knows naman.

Anyway, salamat talaga sa mga comments at sa visits. Tuesday, balik ng trabaho that was really hard specially I only got 1 hr of sleep. I was so quiet all day and bitchy. hehehe. Nang inantok ako i got up and put away all my xmas decors. Ako lang ang nag decorate sa opis namin, hindi naman masayong marami I just work what we have. :-).
ang luma naming trees. sabi ng mga katrabaho ko, ako ang gusto ng tree so ako din ang mag ligpit.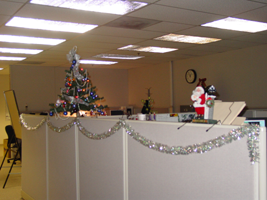 wall sa area ko. pinagtawan lang nila ang maliit kung tree :-).

my area…daming kalat kasi i was trying to finish my job at isa pa potluck namin when i took the picture.

ito ako nagluto ng eggrolls nung potluck namin the 20th of Dec. xmas lights ang gamit ko para makita ko ang niluto ko. hehehe. my area is very dark kasi eh. we turn off all lights sa area namin para hindi masakit sa mata while we're working. so much of work thing…hahaha…

Dec 5th:
Julie's Christmas school band concert, it was a big dissapointed for me kasi we can't hardly see her. 'yong set up nila iba kasi that time with the trumpeters. May kunting solo si Julie and it was so funny kasi sa class ng band ni Julie siya ang first chair at sa isang class lalaki ang 1st chair. When they played this piece of music sila lang dalawa ang na pili to play & that night the kid was praying that Julie will chicken out so he'll play the solo by himself. Tumawa lang si Julie. We'll hindi namin siya nakita when they played their solo kasi they sat down the whole time at ang alam lang namin when we heard the music we know it was her kasi she practice her part at home. As always the concert turned out really good. More pix HERE.

Dec. 10th:
we went with Kathy for christmas tree hunting. Nagpatulong lang si Kathy kasi hindi nya kaya na mag isa, na injured kasi ang asawa nya. Julie & I was our first time na mag christmas tree hunting it was fun & was hard to pick the perfect one. Took us forever until we found the nice tree. hehehe. the left pics when i cut it down, the right side when they put it up in their living room. Ang laki ano? Pero not as tall like last year, i think they have 9.5ft.

here's the tree all decorated with collectable ornaments. More pix HERE during our Christmas Tree hunting.

Dec 21st: I had my dentist appoinment while waiting I was reading a magazine & local news paper. When I looked through the local news paper I saw Julie's name as one of an honor student in 1st quarter, I had a big smile cause I was really surprised! When I got home I called Tom to buy me the local news paper but it was an old issue like a week old. But you know what I did, I went back to my dentist and ask the paper. hehehe. I will scanned it when I get a chance.

Dec. 23rd:
we went to Pistons games with Melanie & her friends. It was fun. Natawa lang ako kasi I took Tom's truck cause he wont let me drive my van cause meron kasing problema sa headlights it turned off by itself. Ang problema can't parked the truck closer cause it's hard to back up or something. So we had to park a little bit farther to make a lot easier. Sorry Melay…hehehe…I know Kookie has H3 I don't know how she does it but for me i'm just scary cat i guess. hahaha… More pix HERE.

Dec. 25th: sa bahay lang kami walang ginawa kundi nanood ng 24 all day all night long. I got Tom hooked to it but after 8 hrs. ayon galit na it's stupid daw. hahaha. I am so glad na I got him hooked to watch 24 para this coming new season I can watch the show downstairs every Monday. Big 4 hrs new season premier Jan. 14th can't wait!

Dec. 26th: We went to a car dealer try to buy a new one for me to replace my minivan. We found the suv we want & calculate how much would be. $383/month right away i said NOPE! He said it's OK but i insists, why would I want that hight monthly payment my van still good, has 64 thousands miles & still under warranty. So. we left & went straight to another car dealer where we bought my minivan to have it fix with the headlights. Then we decided to have them check everything and replaced a new brakes. Picked up my van Dec 27th & only paid $530, not bad huh. Sarap kasi i drive na wala kang iisipin na payment. diba? I might drive my van until it dies. hahaha.

Dec. 30th:
I had a little xmas gatherings in my house. Ylan pink plate lang daw imo ingon Melay…hehehe…It was fun kahit kami lang. walang masyadong pictures cause we're busy talking & play mahjong. Pati co-worker ko naki paglaro na rin. Melay thanks for coming ug palihug sab ko ingon ni Jigs. Ako diay ug si May ang napildi sa mahjong…hahaha…ingna Jigs duwa ug utro kay amo bawion amo pilde na tres dolars. hahaha! More pix HERE.

Oo nga pala nakabawi na ako sa tulog ko. Thursday I was so tired & as soon as I got home I went straight to bed. Hindi na ako ginising ng mag ama kasi alam nila na pagod ako. I woke up at 5 in the morning Friday. hehehe.
Oh my- sorry kung na bore ko kayo sa napakahaba kung post.
. Thanks for taking your time to scroll down.
Have a nice weekend everyone and have a wonderful week ahead. God bless! Kisses to all.