Yes, that's a big questions to us what happened?!
I was driving on the freeway around 6:15 this morning, traffic was fine all clears, all of the sudden I heard this loud noise and i looked my rear view mirror i saw a big whole at the back window of my van. Oh my gosh, what just happened? I changed lane, since the traffic was clears i managed to pull over on the side of the freeway, called hubby crying. (cried like a baby). He can't even understand me, i was shaking and scared to death! He told me to keep driving i can't stay on the side of the freeway. So, I did and got off the next exits. I parked my van in one of the hotels near by parking lot and tried myself to come down. He told me to called a police to report the incident but i couldn't i was so scared. He called and told them where i was. After 20 mins police came and i got out and talked to him. The strange was he said right away someone shot you huh? Like what?! He asked me all kind a questions and then i asked him what've happened? His answers was something happens and i don't know. But my questions, why he said someone shots at the back of my van? Anyway, he gave me the card with the case number and all and I droved to the nearest glass store to have it fixed. I called Tom and he told me to go to the place where he used to go and he will meet me there. So i did, but the store still closed so i went to a restaurant have coffee. Tom came and looked the damaged and he shook his head can't believe what happened.
We went to the glass store, we told the person what happened he even shook his head too. I said maybe might be the change temperature. But its not the case cause had the mini van in years nothings happens plus it's a tempered heated solar glass so the temperature is nothing to do with it. Anyhow, luckily we report the incident we gave him the case number and called the insurance. We only paid the deductable, otherwise will cost us.
We asked how long it'll takes to replaced the glass, he said about an hour he looked their inventory but they don't have it so he called and ordered the part but wont be deliver not 'till 10:30. So, we went for breakfast and went xmas shopping :-).
After 5 stores we went back if it's done but still in the parking lot so we went for lunch after lunch back again and Tom dropped me off this time cause he has to go to work. So, i waited and waited after 2 hours all finished and it's already 2 in the afternoon and i just droved home. I got home & straight to bed.
Thank God I didn't panic what happened and so thankful that I am safe.
We think that might have a big stone thrown ovet he bridge or something causing it. Whatever it is it cost me my whole day working, Tom's half day working and the deductable. Their goes our xmas… :-).

Here's the pics of the back window of my van…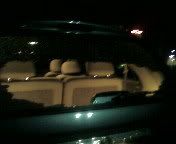 Taken at 6:20
Taken a little bit after 8 in the morning. Pretty scary huh. Oh yeah- while driving to get off the freeway all i can heard the glass keep falling off, i keep jerking with the glass noise.

You know, when the cop told me maybe someone shot at the back of my van, I remembered the news yesterday about the road rage, They say a driver was in a hurry and shot at a slower vehicle. Very scary isn't it?

Also it reminds me the first day driving to our new place. I was driving on the freeway in the slower lane doing 80-85 mph I saw this driver in my rear view mirror in & out the traffic when he was closer to me he was right on the back on my va warned me to speed up but the thing is i'm already doing 80 mph in slow lane, i said screw you. Apparently he wasn't happy so he manage to go over the car beside me and flipped me off, i just gave him the looked, yeah whatever, he pulled in front of my van and tried to slammed his breaks luckily i was so quick and slows down. So, he speed up & i saw him in & out the traffic…bastards!

Sorry for the long post again…Happy Friday everyone and enjoy the weekend. God bless and love you all!

To:

Melle, Wendy, Lolli, Ivy, Gigi, Mila, Rho, Irel, Haze, TIkey, Juana, Hoth, Malou, Che, Frenchie, Prescy, Lanie G, Bea, lhadymitch, Ghee, Sonia, Rolly, Coco, Ann, Sasha, Nona, Irish, thank you sa comments on my previous post glad that i got you all! hahaha.

…and to all who visited me and left me messages in my tagboard Thank You too. I'm sorry I haven't visiting your places yet, I will do it soon. Thank you for inderstanding, truly appreciated. Hugs & kisses to all.