…I hate Monday I don't know why. I think because 2 days weekend it's short for me. Today at work such a boring one. I start working with my catia station checking with welds updates but before i started of course i cleaned the mouse & keyboard first kasi my cube mate ginamit niya at kinda disgusting kasi meron siyang plastic na palagi nyang kinakagat, took it out from his mouth put on the desk and working. So i did make sure na wiped 'em off with sanitizer wipes.
. Ng bumalik ako sa isang kung computer na naman ginamit nya, i kinda upset kasi i need to used the catia workstation. Well, since wala kaming boses today i gave up. Sana dinala ko ang mga pictures ko para maka pag scrapping hehehe. After lunch since i'm tired i put my head down on my desk and i was out like a baby. Nagising ako almost time to go
. Nawala nga pala ang galit ko sa kanya kasi he left me alone & let me sleep.
As promised i'll share all my xmas creations. All you see here are all my hardwork. Hope you guys likes them. Before the pictures share ko muna 'to. I'm just happy & proud, wink*.

My 2004 xmas creations has 74 downloads, how neat is that?!
. I feel so proud about it, don't you? Click here for my 2004 xmas creations.
2006 Christmas Creations: As I said I recycle all my old stuff.
center piece for my buffet table.
a freebies greenery from our old building. Add some red poinsettia, looks fine i think.
I used the left over branches from my tree for garland.


top of the mantle. again i used the left over branches from my tree and add with some poinsettia.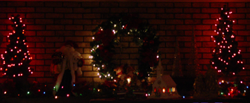 with the xmas lights on.

curtain dressed up with red berries garland. little touch so not boring to look at.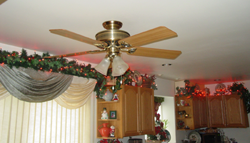 in our kitchen area. julie said looks like a jungle!
3 wreaths i made 2 yrs ago. last year was just the ribbons, this year i add red berries. Oh yeah- the wreath form i used is a wire hanger from the cleaners.
.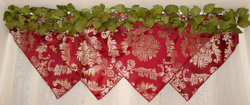 our table napkin from last year, now is in our kitchen window curtain :-). i used tacks to hold the napkins, add greenery and voila! neat huh!

what do you think?

center piece for the dinning table. i re-create it this year, poinsettia & red berries.

inside the china cabinet. i already have the greenery for year around then every xmas i add some xmas picks for color.

to do this a lot cheaper, purchase the poinsettia in a bunch and cut them off using wire cutter of course :-) and just spread it. to make the basket look fuller stuff with news paper (i used a florist foam) and top with cut off garland and voila!
same thing with this, i filled the basket with lots of news paper…add with cut off garland and xmas picks looks just fine.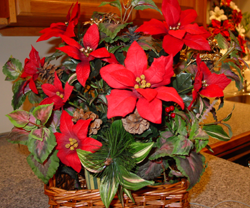 a dollar purchase poinsettia.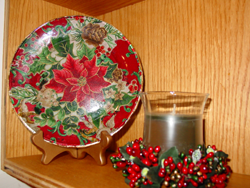 xmas plate i made, back 1994. xmas fabric glued on the back of the clear plate.

old table runner i made/sewn in 1994.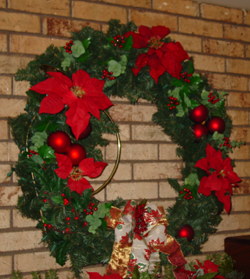 wreath i made 3 yrs ago. too lazy to re-create it this year.

another one 3 yrs ago but i re-create it last year.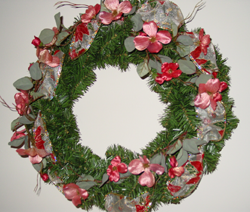 i use this wreath last year for my coffee table center piece with candle holders in the middle, this year hang on the wall
.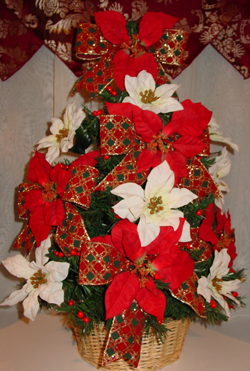 i didn't used any ribbons for my big tree, so instead i used in the little tree.
counting down…
2004 Christmas Tree…I watched a xmas decoration show on hgtv. one time they were showing how to recycle an old tree. I thought i should give it a try to give a new look for my 10 yr. christmas tree. I didn't used all the branches & alternate each layers does it looks like a pagoda? Well- Tom & Julie didn't like it that much.
.

2005 Christmas Tree…Since they didn't like the 2004 tree, we put together the whole tree. Click here for my 2005 creations.

2006 Christmas Tree…I didn't used all the branches but I spread them up to look fuller like a tree
. (I will share the rest of the pictures soon)

with the christmas lights on. in some reason i used less this time.

That's it, so sorry for the long post…

oppsss one more thing. Do you have left over or don't like to hung the bulb ornaments anymore? Why not make a wreath for it
.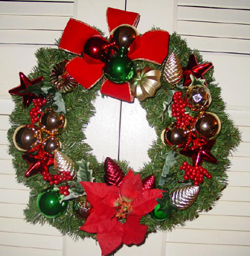 I made this for my friend mom's xmas gift.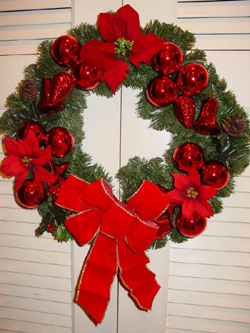 and for Julie's teacher.

Ok this is it…Thanks for taking your time to scroll down. It sure a really long post.

Have a wonderful week everyone and God bless!