Hello everyone- I would like to ask a big favor, my other blog CARLOTAONLINE is nominated for "FILIPINO BLOG of the WEEK" please visit HERE to vote for me. Thanks much.

Julie's new instrument: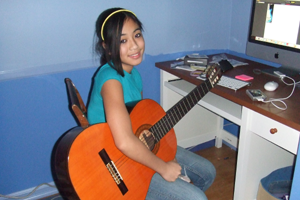 She's learning how to play guitar so far so good. The guitar she's using right now is Tom's guitar and I'm surprised he let her use it. It's a Garcia's guitar 1973 i think its A1. I know she wont use it for long. I told her and of course she gave me an attitude. Last year we got her the portable grand keyboard cause she want to learn how to play, I think she's getting bored at it and now guitar, what's next? She already ask for drums but I told her wait 'til Mathew done with his drum so she can have a really good one. I doubt it. I asked him and he told me he will keep it. Combo lata I can give it to her right now...hahaha...Maybe I can ask hubby to bring her back sa ukilili...hehehe...

so far here's what she play:

1st Oboe = school band...played for 4 weeks and she decided to switch to Trumpet.

Trumpet = school band...she play really good according to her teacher, she got first chair and no one want to challenge her. [this coming Tuesday Christmas concert, she's gonna have a short solo]

Keyboard/piano = she can play and she's getting good at it.

Guitar = just start learning

hmmmm what's next?