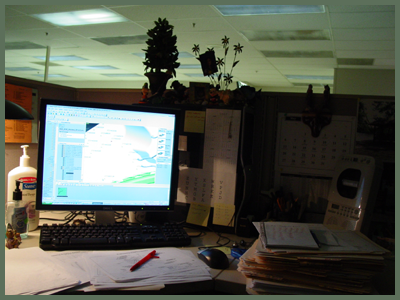 This is my work place, isn't it dark?

Yes, I like it dark it so easy on my eyes. Starring at the monitor 8 hrs. a day, 5 days a week gotta protect your eyes. Does it look like put you to sleep? :-) . meron na akong blanket sa work kulang pillow at bed na lang at puede na mag nap anytime i want.

How dark is you workplace?

Oh- i remembered 2 or 3 yrs ago sa old building namin, we had this huge window and too many lights. I sit close the window and i meron pang overhead light sa area ko. Nagreklamo ako 'bout the light pero 'tong receptionist namin ayaw nyang i turn off ang light kasi nagtatrabaho daw siya. yeah right! well- sipsip siya sa boss namin so isang bulb lang kinuha nila. I was kinsa pissed off, you know what i did? during lunch time, pumunta ako sa eye doctor ko at naghingi ng doctors note and as soon i came back i gave to my boss and of course walang say ayon shut off lahat ang light sa area namin. hehehe. galit na galit ang biatch na receptionist namin. Panalo rin ako. hahaha. Isang ka trabaho ko sabi pa don't miss around with filipino chick! hehehe.

Anyway, to Lolli thanks so much. iiyak na sana ako, 'kala ko kasi 'di puede. hehehe. Seriously, thank you.

To Krystyna, just got a chance to post your thank you card.

You are just so sweet, you are soooo welcome!. I thank you too for letting me work on your blog.

Have a great week everyone. enjoy!